The range of GTS Thermo oil heaters reaches from small heaters with 20 kW up to 400 kW.
Even beyond that we are able to meet the performance requirements of our customers.
The power control is either via contactors or thyristor.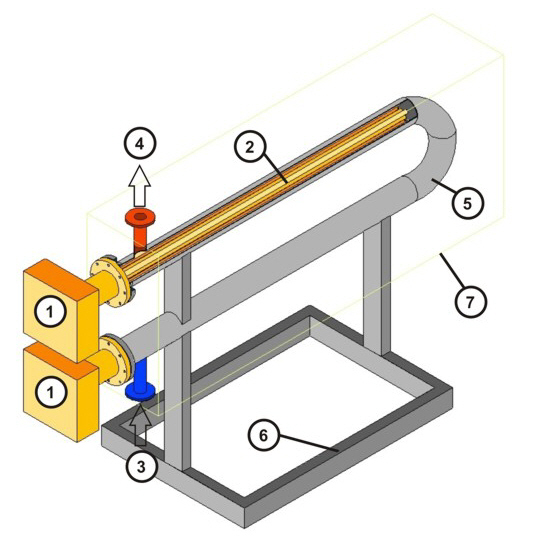 | | |
| --- | --- |
| 1 Connecting housing | 5 Pipe system |
| 2 Electric heating elements | 6 Frame |
| 3 Inlet connection | 7 Insulation |
| 4 Outlet connection | |
Design features
Design, production and execution according to the following rules:
DIN 4754 "Heat transfer systems with other liquid heat transfer fluids than water" and "Safety requirements"
VDI 3033 "construction, operation and maintenance of heat transfer plants with organic and inorganic heat carriers"
AD 2000 leaflets
EG Pressure Equipment Directive 97/23 / EC
The electrical heater is build as forced flow heater.
The electrical heating elements are built into a pipe system, which is flowed through with the thermal oil. According to the heating capacity, 1 or several heating elements are built-in.
The power is controlled by 1 or several heating stages.
The high-efficient insulation consists of mineral fiber mats with a cover of solid aluminum sheet.
| | | |
| --- | --- | --- |
| | | |
| Electrical heater 400 kW | Electrical heater 300 kW | Electrical heater 300 kW |